Description
Introduction
The Learner's Hindi Dictionary (1st edition, published 1982) has been so very that it has encouraged and emboldened the editor, in spite of his old age and decayed health, to prepare a Learner's English-Hindi Dictionary also. It contains many more and much more lemmata.
It is wrongly beloved that a bilingual dictional aims to teach to the target language. But the editor believes that it should teach both the languages. This one has been designed with this purpose in view. It is meant to improve the linguistic Knowledge of an English reader and a Hindi reader alike.
Most dictionaries give pronunciation, grammar and meanings. But modern trend in lexicography is to provide a great deal more, particularly in a bilingual dictionary. It has to illustrate declensions of nouns and pronouns, and if necessary, as in Sanskrit or Hindi, of adjectives, and inflections of verbs. It should cover all the grammatical forms and categories, and show their uses in phrases and/or sentences. In fact, It is usage dictionary. Read within, for examples, turn, great, good, help. This dictionary gives copious examples of declensions and inflections, in Hindi and English.
Which nouns take particular adjectives or verbs, which adjective collocate particular nouns, which verbs have particular adverbs to quality them-this kind of information should be provided. See, for examples, frult, good, go hide.
Even some latest monolingual dictionaries just list compounds and derivatives at the and of lemma. But a bilingual dictionary treated them fully. Most dictionaries do give various shades of meanings. But in a learner's dictionary, the reader expects to know the nuances in both the languages. This dictionary provides this information either round brackets or in illustrative phrases and sentences.
Additional information, usually lexical (antonyms, feminine genders) is given, where necessary, at the end of a lemma.
Meanings of a word have been arranged accented to their frequency in English.
More salient features of this work will be details in the following pages.
Spelling
Spellings of all words in this dictionary are based chiefly on British Dictionaries – The oxford Modern English Dictionary and Longman's Dictionary of Contemporary English. Proper nouns and their derivatives have spelt with capital initials. If any word is spelt with small initials in some senses and with capital initials in other senses this is indicated.
Variant spellings which are still recognized in Standard English are given.
Attempt is made to give also American (Am.) spelling. Also see below.
For example, scarf-scarves, studio-studios. Straightforward forms are, of course, given in illustrative phrases and sentences.
Verb forms in present participle, past terns and past participle are generally indicated in examples, but when the last consonant of the verbal root is doubled, it is shown (as sitting, admitted) after the headword. Strong or irregular verbs are also shown there.
It would be noted that most of the verb are alternately spelt in –ise or –ize. The American prefer-ize, the British-ise.
Some adjectives, ending in single consonant in degree get the final letter doubled in comparative and superlative degrees, e.g., not, hotter, hottest, sad, biggest. They are invariably indicated.
Some agentive nouns, formed from verbs ending in single consignment, are also doubled and shown. For example, run-runner, cut-cutter, sit-sitter, grip-gipper.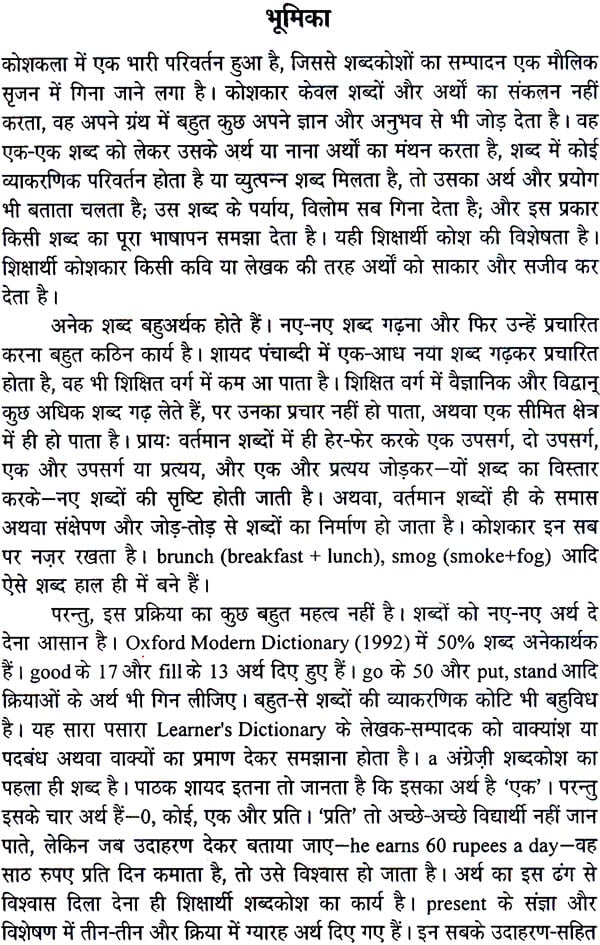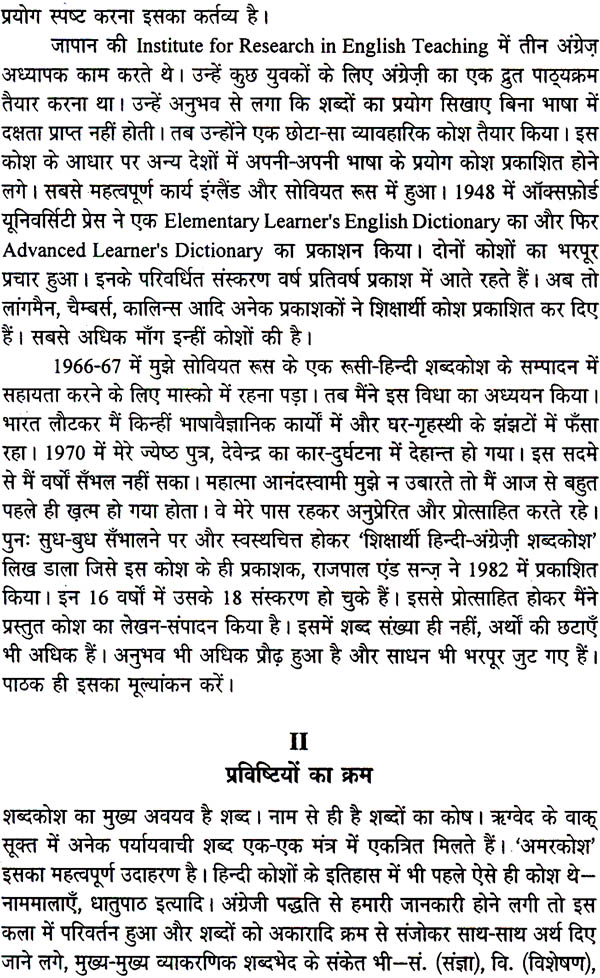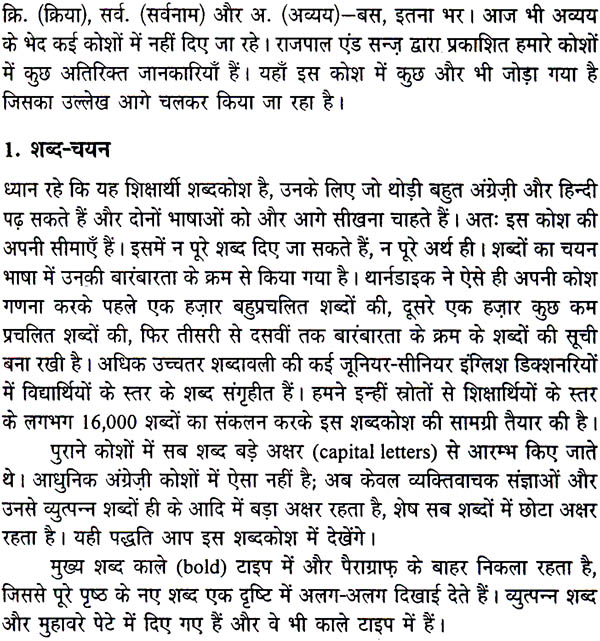 Contents
| | | |
| --- | --- | --- |
| | Introduction | 9 |
| | Abbreviations used in the Dictionary | 38 |
| | Dictionary | 1-1107 |
| | Appendices | |
| 1 | Suffixes | 1111 |
| 2 | Prefixes | 1116 |
| 3 | Compounds | 1118 |
| 4 | Abbreviations | 1119 |
| 5 | How to tell numbers | 1126 |
| 6 | Measures and Weights | 1130 |
| 7 | Proverbs | 1131 |
| 8 | Words generally confused | 1136 |
| 9 | Grammatical formations | 1138 |
| 10 | The family and nearest relatives | 1139 |
| 11 | Common personal names | 1143 |
| 12 | Famous personalities of Europe & America | 1144 |
| 13 | Countries, Capitals, Currency& language | 1146 |
| 14 | Words often written wrongly | 1151 |
Sample Pages