Description
From the Jacket:
Amaruka (A.D.800-A.D.900), one of the greatest lyrical poets of all time, wrote Amarukshataka. It is one of the finest lyrics of love in Sanskrit literature. About the authorship of Amarukshataka, various traditional stories are told. One is that Amarukshataka was composed by Sankaracharya who has entered the body of king Amaruka, who expired during his trip to northern countries for Digvijaya. Another is that Amaruka was a king who flourished somewhere in North India. He had a hundred ladies in his harem and each day he composed a verse for the lady with whom he spent that day. Amaruka has the distinction of having at least eight royal commentators and three more works that explain the poem.
Amaruka's stanzas on love are often voluptuous, but they can humorously tender, and always show a sound understanding of feminine psychology. Amaruka loved to describe a poignant moment in a human relationship in a single verse, in which the reader is given only the climax of the story, the reconstruction of the rest being left to his imagination.
About the Author:
Dr. N.P. Unni (b.1936), writer of the present monograph is a renowned scholar in Sanskrit. Worked as a Professor and Head of the Sanskrit Department, University of Kerala. Presently, he is the Vice Chancellor of Sree Sankaracharya University of Sanskrit, Kalady, Kerala.
CONTENTS
| | | |
| --- | --- | --- |
| 1. | Identity | 7 |
| 2. | The Text Tradition | 22 |
| 3. | Commentaries and Commentators | 25 |
| 4. | The Hundred Poems of Amaru | 30 |
| 5. | Lyric par excellence of love | 57 |
| 6. | Popularity of the Work | 61 |
| | Bibliography | 63 |
Sample Page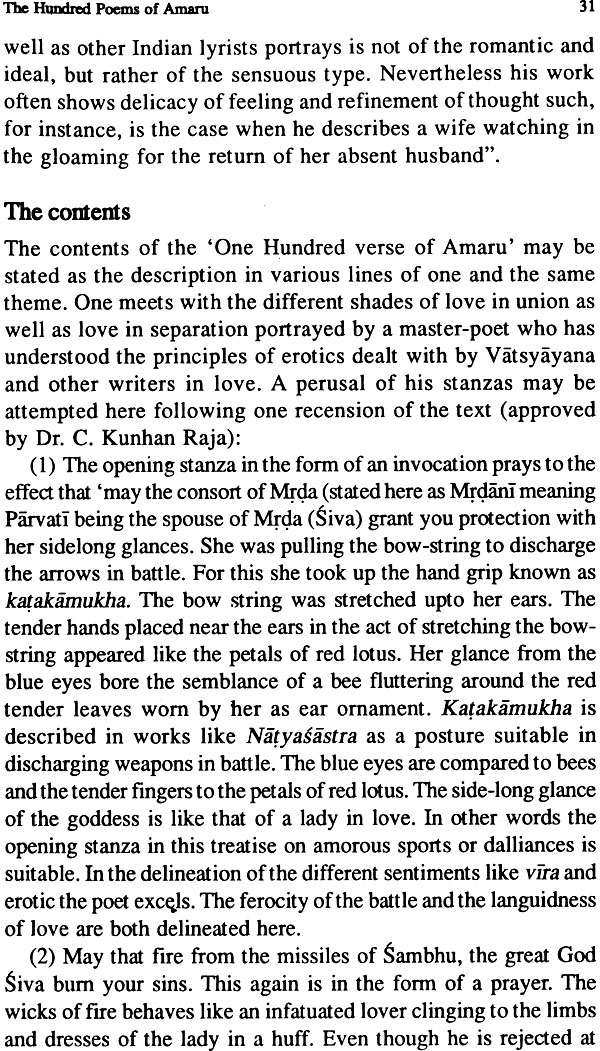 Click Here To View All Titles In This Series