Description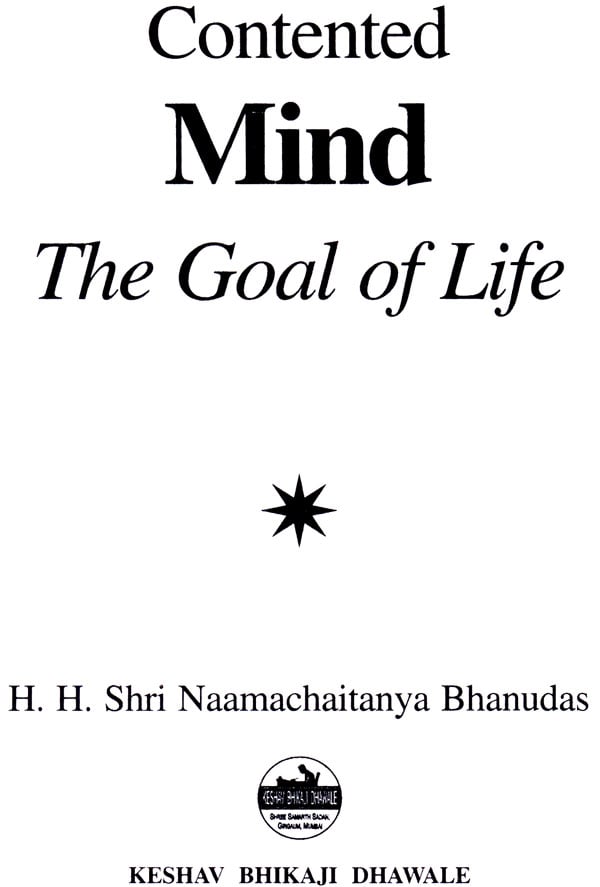 About the Author
•Lineage of seven generations of Hindustani classical music and nine generations of spiritually advanced personalities.
•Father — Pandit Manikbua Thakurdas (Musicologist).
• Passed Sangeet Visharad while studying in the matriculation class.
• Studied at Achrekar's arts academy and obtained diploma from J. J. School of Arts.
• Established own advertising agency 'Commfine'.
• Won several honours and prizes at state and national levels.
• Naturally inclined towards spirituality as against worldly pursuits.
• Began meditation in the year 1973.
• In the first 18 years of rigorous spiritual journey explored the three different strata of human mind viz, the conscious mind, the subconscious mind and the supra-conscious mind. It was further revealed that the mind is an energy which pervades the entire universe.
• The latter 18 years were devoted to continued research on this energy called mind, which gave birth to Self-Science.
• Self-Science is the comprehensive science of human mind and it has the capability to uplift the entire human race.
Foreword
The human mind is home to a variety of thoughts and a continuous play of emotions arising from them through the course of one's lifetime. The thoughts generate related emotions and the emotions in turn give rise to more thoughts as both are interdependent and complementary. These thoughts and emotions dictate all our plans and actions. In other words, we lead our lives in accordance with our thoughts and emotions.
This book deals with the inner processes of the human mind in order to manage one's thoughts and emotions in a way that one can experience contentment and lead a fulfilling and peaceful life. Just as we experience an assortment of emotions like happiness, sorrow, love, anger et cetera, we experience feelings of satisfaction and contentment as well. It starts with a desire for something, and then the mind plans for its fulfilment and takes the required action using the body as the vehicle. The mind feels satisfied once the desire is gratified. A lifetime pervaded by the feeling of satisfaction makes it pleasant and worth living through, and therefore recurrence of such experiences and pleasant emotions is very important in one's life.
The desires arising in one's mind could be constructive or destructive in nature. On one hand actions required for fulfilling destructive desires would mostly be negative in their quality, and are sure to cause the worsening of one's mental state as they necessitate taking the illegal or unethical route. The resulting satisfaction would only be superficial and deceptive, leading to irreparable misery in the end. According to the author, it is possible to lead a reasonably harmonious life if one could keep a check on the slipping of one's mind into the trench of indiscretion. On the other hand actions taken for fulfilling one's constructive desires would be positive and creative, and the satisfaction they provide will lead to lasting contentment and peace of mind. However, the satisfaction resulting from the gratification of a materialistic desire is transient because it is based on a physical object, an individual or prevailing circumstance. It can only pull one deeper into materialistic and worldly interests for gaining satisfaction. If one continues on this path, one is left yearning for and helplessly chasing lasting contentment throughout his lifetime.
The author draws the reader's attention to the fact that true contentment is not contingent upon any ephemeral entity and it is the basis for attaining peace of mind. When the mind becomes home to such contentment, it ripens and evolves to be peaceful and cheerful. Lasting contentment, peace and cheer are the hallmarks of what Self-Science calls an enriched mind. Self-Science is the absolute and comprehensive science of the human mind, and it is the outcome of deep exploration into the mind's attributes and processes. Self-Science states that attaining the enriched state of mind is the first step towards the spiritual advancement of an individual. This book elucidates different ways of experiencing real satisfaction and attaining a lasting contented state, finally leading to the enriched state of mind.
The book puts forth effectively, how one can experience true satisfaction in the course of one's life. For example setting and achieving goals, performing one's duties earnestly, devoting oneself to selfless work are a few ways in which one experiences great mental satisfaction. When one is placed in a difficult situation, he is required to face it bravely and not run away from it. The ways and means of accepting the situation wholeheartedly and adjusting with it to eventually overcoming it or converting it in one's favour have been well underlined. All these techniques are a part of one's journey towards attaining mental contentment leading to an enriched state. It is remarkable that the author has narrated several anecdotes from his own lire to illustrate how he faced several challenging situations and found solutions to transform them into favourable ones. This lends added authenticity to the methods, as they have been successfully used by the author in real life, and provides assurance to the reader that they too will obtain favourable results if implemented as recommended.
Once an enriched state of mind is attained, it is important to maintain it without any degeneration or slippage to a lower state. The book deals with, in sufficient detail, different methods of sustaining the enriched state of mind through one's lifetime. The ICE formula, Game of Chess and The Period of Pause are notable in this context. What are the important aspects of one's life, how much importance should be assigned to each of them, when and how comparisons should be used to derive maximum benefit, whether one should harbour expectations about others and how one could limit them to a manageable level are discussed as part of the ICE formula. Recurring interactions with different personalities and temperaments have a great effect on one's state of mind. The similarity between the nature of these interactions and the Game of Chess provides an insight into how one can be the 'King' on the chessboard of one's life and continue to be in a contented state despite living amongst disparate people. The author urges the reader never to cross the line of restraint in the context of the six maladies (shadripu) that afflict the human mind, to prevent potentially uncontrollable situations that are sure to cause anguish. It emphasises the importance of taking timely cognisance of an impending flare up, and taking a pause for a short period of a few seconds to safeguard one's peaceful state of mind.
The author of this book, H. H. Shri Naamachaitanya Bhanudas was born in a family with a lineage of musicians and spiritually advanced personalities over nine generations. He has dedicated 36 years of his life to the exploration of the human mind, and even today continues to engage himself with it. In this book he has placed before the reader how he was able to achieve spiritual advancement by elevating the state of his mind while continuing to lead the life of a common, worldly householder. The book aims at imparting to the reader methods that are key to accomplishing similar advancement in himself. As the author is born in a traditional Hindu family and has lived in India all his life, it is quite natural for him to cite examples and anecdotes that have a typical Indian flavour even though he himself is a person of liberal views.
On reading the book one is impelled to carry out a process of self analysis. What is the state of my mind and what do I want it to be? What is the purpose of my life and what do I want as the goal of my life? These are some of the questions that arise in the reader's mind and he is inspired to take positive action to radically change his outlook towards life.
Contents
| | | |
| --- | --- | --- |
| | Intent | 7 |
| | Foreword | 9 |
| Chapter 1 | Need for contentment | 15 |
| Chapter 2 | Illusory Satisfaction | 29 |
| Chapter 3 | The state of contentment | 57 |
| Chapter 4 | Sustaining the contentment state of mind-I | 94 |
| | Staying cool with ICE | |
| Chapter 5 | Sustaining the contented state of mind II | 149 |
| | The game of chess | |
| Chapter 6 | Sustaining the contented state of mind III | 163 |
| | Straw hut, matchstick and period of pause | |
| Chapter 7 | Private world of sentiment | 169 |
| | Bhavanvishwa | |
Sample Pages